Bonus Incentive Plans for Key Employees
What's the point?
"I want to install a bonus plan for my key employees to reward them for their performance."
"One of my best employees left last week for a company for more money. I think I'd better install a good bonus plan to stay competitive in the marketplace."
These are just a few of the comments that we've heard from business owners over the years when we raise the question of installing an employee incentive plan. While these two are noble sentiments they aren't nearly self-serving enough.
The purpose of installing a bonus plan for your employees is simply to motivate them to help you reach your exit goals. While owners differ in when they want to leave their companies or how they wish to leave, the underlying goal is consistent: to leave the company in style. This is the goal that any employee incentive plan should support.
Employee incentive plans must be designed to support your fundamental exit goals by motivating your key employees to stay with your company. Consider the following:
Few owners will take an extended vacation much less cut back on their involvement without leaving capable management in place to run the business;
No sophisticated buyer will seriously consider a company that lacks a good management team;
Many, if not most companies, are sold to key employees; and
Transferring a business to children is especially risky in the absence of key employees who will remain with the new owners.
In each of these cases, owners rely on the presence of key employees to advance their particular exit strategies. If we've convinced you that no matter what type of exit you are planning, key employees are vital to its success, read on. If not, ask us for a copy the White Paper where we make our case more completely. Our White Papers are also archived at Clayton Capital Partners' website, www.claytoncapitalpartners.com.
For an incentive plan to be effective then, it must contain an incentive formula that rewards the key employee as the key employee's efforts increase the value of the business.
Put another way: an effective key employee incentive plan increases the value of the business as the key employee is rewarded.
Usually, this means developing an incentive formula that is linked to increases in the income or cash flow of the business. In its simplest form, the incentive plan gives the key employee a cash bonus. Part of the bonus is paid currently and part is subject to vesting thus handcuffing the employee to the business. (For a more complete discussion of vesting, please see Issue 19 of The Exit Planning Navigator®.)
Let's look at how one fictional owner set up his company's incentive plan.
After meeting with his advisors, Mel Houston decided to give two of his key employees 30 percent of the company's pre-tax income above $100,000 (the company's historic performance level). After Mel installed this plan, the company's pre-tax income increased to $300,000 so his key employees shared 30 percent of the excess income ($200,000) or $60,000.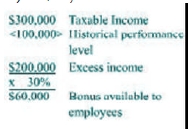 Because Mel wanted to retain his key employees over a long period of time, he decided to pay half of this bonus currently and subject the other half to a nonqualified deferred compensation plan with vesting.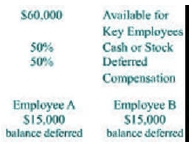 In short, Mel's plan, like yours, should provide that as the cash flow of the business increases and thus the value of the business increases, the key employees are increasingly rewarded. Both key employee and business owner goals are attained.
Keep in mind that the formula you and your advisors create for your company can and should reflect the specific characteristics of your business. The head of the sales department might be rewarded for increasing the adjusted gross profit margin. A chef in a restaurant might be rewarded for reducing food costs (but not so low as to affect the quality of the meals served). Whatever you identify as a key factor in increasing the value of your company can be incorporated into your key employee incentive planning.
Subsequent issues of The Exit Planning Navigator® discuss all aspects of Exit Planning.