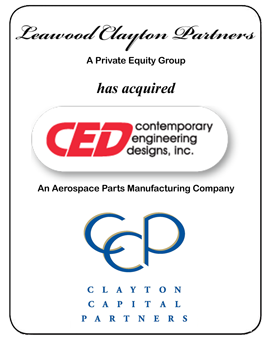 ST. LOUIS, MO
Clayton Capital Partners is pleased to announce the sale of Contemporary Engineering Designs to Leawood Clayton Partners.
THE BUYER
Leawood Clayton Partners, (leawoodclaytonpartners.com) with offices in St. Louis and Kansas City, MO, is a private equity firm dedicated to acquiring and partnering with small and middle-market companies throughout the Midwest.
THE SELLER
Contemporary Engineering Designs, Inc., (cedinc.net) based in Bloomsdale, MO, is an aerospace parts manufacturing company offering the highest quality waterjet and CNC machining for commercial, aeronautical and industrial purposes. As an industry leader, CED can handle all machining needs from prototypes to large production runs.
ABOUT CLAYTON CAPITAL PARTNERS
Clayton Capital Partners (CCP) is one of the nation's top independent investment banking firms providing M&A advisory services to a diversified client base of middle-market companies. Clients have come to rely on our expertise, our commitment to client services and our innovative ability to create value.

The principals at Clayton Capital Partners focus on satisfying the complex needs and objectives of our clients through our core business practice of M&A. Together, our professionals have acted as financial advisors in more than 200 advisory transactions.
If you would like more information about this transaction or Clayton Capital Partners, please contact Kevin Short, Managing Partner & CEO, at (314)725-9939 x 525 or via email at kshort@claytoncapitalpartners.com.