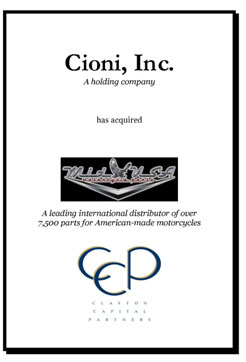 ST. LOUIS, MO
Clayton Capital Partners is pleased to announce the sale of its client, Mid-USA Motorcycle Parts, Inc. to Cioni, Inc,. a holding company.
THE SELLER
Mid-USA Motorcycle Parts, Inc. (www.mid-usa.com) a leading international distributor of custom motorcycle parts with locations in the United States and Canada. Mid-USA offers several of their own product lines, including Hardbody, V-Factor and Powerhouse, in addition to a diverse catalog of standard brands in the industry.
THE BUYER
Cioni, Inc. a holidng company.
ABOUT CLAYTON CAPITAL PARTNERS
Clayton Capital Partners (CCP) (www.claytoncapitalpartners.com) is one of the nation's top investment banking firms providing financial advisory
services to a diversified client base of middle-market companies. Clients have come to rely on our expertise, our commitment to client services and our innovative ability to create value.
The principals at Clayton Capital Partners focus on satisfying the complex needs and objectives of our clients through our core business practice of Investment Banking. Together, our professionals have acted as financial advisors in more than 200 advisory transactions with an aggregate value exceeding $1 billion.
If you would like more information about this transaction or Clayton Capital Partners, please contact Brent Baxter at (314)725-9939 x 526 or bbaxter@claytoncapitalpartners.com.