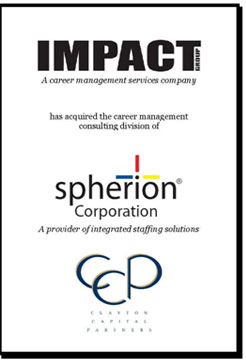 ST. LOUIS, MO
Clayton Capital Partners is pleased to announce that its client, The Impact Group has acquired the career management consulting division of Spherion, a U.S. staffing solutions and recruiting firm.

THE COMPANY
Spherion (www.spherion.com) is a nationwide provider of staffing solutions and corporate recruiting services. These services span every industry, from clerical to light industry, and every level, from temp/part time to management and beyond.

THE BUYER
TheImpact Group (www.the-impact-group.com) is a leader in career management services. Founded in 1988, they specialize in outplacement, spouse employment, family relocation support and retirement coaching. Headquartered in St. Louis, Missouri with support operations in Asia , Europe and the United Kingdom, The Impact Group has serviced mid-size to Fortune 500 companies with transition services for two decades. The Impact Group provides cost-effective HR solutions without compromising quality by focusing on the unique characteristics and strengths of every individual.
ABOUT CLAYTON CAPITAL PARTNERS
Clayton Capital Partners (CCP) is one of the nation's top investment banking firms providing financial advisory services to a diversified client base of middle-market companies. Clients have come to rely on our expertise, our commitment to client services and our innovative ability to create value.
The principals at Clayton Capital Partners focus on satisfying the complex needs and objectives of our clients through our core business practices – Exit Planning and Investment Banking. Together, our professionals have acted as financial advisors in more than 200 advisory transactions.
If you would like more information about this transaction or Clayton Capital Partners, please contact Brent Baxter at (314)725-9939 x 526 or via e-mail at bbaxter@claytoncapitalpartners.com.