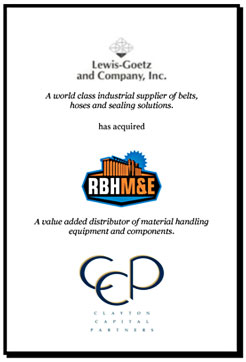 ST. LOUIS, MO
Clayton Capital Partners is pleased to announce the sale of its client, RBH Mill & Elevator Supply, Inc. to Lewis-Goetz and Company, Inc., a Pennsylvania-based supplier of belting, hose and sealing products.
THE SELLER
RBH Mill & Elevator Supply, Inc. (www.millelevatorsupply.com) is a Kansas-based value added distributor of material handling equipment and components. The company carries a full line of all material handling and conveying equipment, including, but not limited to, Drag Conveyers, Bucket (Leg) Elevators, Screw Conveyors and related replacement parts, as well as safety products and mill supplies.
THE BUYER
Lewis-Goetz and Company, Inc. (www.lewis-goetz.com) is a Pittsburgh, PA based industrial supplier. Lewis-Goetz is a leading independent value-added distributor of industrial rubber products, including industrial, hydraulic, and metal hose, conveyor belts, gaskets and seals, and related accessories and services. Lewis-Goetz was recapitalized in 2007 by Audax Group, a private equity firm based in Boston, MA.
ABOUT CLAYTON CAPITAL PARTNERS
Clayton Capital Partners (CCP) is one of the nation's top investment banking firms providing M&A advisory services to a diversified client base of middle-market companies. Clients have come to rely on our expertise, our commitment to client services and our innovative ability to create value.
The principals at Clayton Capital Partners focus on satisfying the complex needs and objectives of our clients through our core business practices –Investment Banking and Exit Planning. Together, our professionals have acted as financial advisors in more than 200 advisory transactions with an aggregate value exceeding $1 billion.
If you would like more information about this transaction or Clayton Capital Partners, please contact Kevin Short at (314)725-9939 x 525 or via e-mail at kshort@claytoncapitalpartners.com.