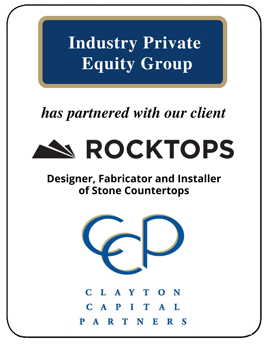 ST. LOUIS, MO
Clayton Capital Partners is pleased to announce our client, Rocktops, has partnered with an Industry Private
Equity Group.
THE PARTNER
Industry Private Equity Group
OUR CLIENT
Rocktops (rocktopskc.com), based in Kansas City, KS, is a designer, fabricator and installer of stone countertops for residential new construction and remodel projects. In an industry with zero tolerance for error, Rocktops stays at the forefront of technology. It is one of the first in the industry to utilize five-axis water jet cutting and computer numerical control routed edging.
ABOUT CLAYTON CAPITAL PARTNERS
Clayton Capital Partners (CCP) is one of the nation's top independent investment banking firms providing M&A advisory services to a diversified client base of middle-market companies. Clients have come to rely on our expertise, our commitment to client services and our innovative ability to create value.

The principals at Clayton Capital Partners focus on satisfying the complex needs and objectives of our clients through our core business practice of M&A. Together, our professionals have acted as financial advisors in more than 300 advisory transactions.
If you would like more information about this transaction or Clayton Capital Partners, please contact Kevin Short, Managing Partner & CEO, at (314)725-9939 x 525 or via email at kshort@claytoncapitalpartners.com.