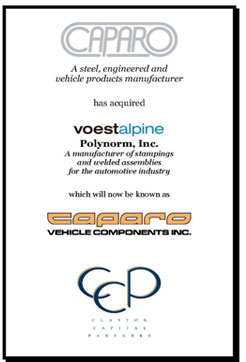 ST. LOUIS, MO
Clayton Capital Partners is pleased to announce that its client, Caparo plc has acquired voestalpine Polynorm, Inc., a manufacturer of stampings, welded assemblies, and e-coated components for the automotive industry. Going forward, the entity will be known as Caparo Vehicle Components Inc.
As explained by Michael Dustmann, Caparo's COO for expansion in North America, "the automotive supply market in North America is known for its tough competitive environment, but it remains the largest in the world, presenting great opportunities for the resources and capabilities of Caparo. We have been patiently searching for the right acquisitions in the US with the people, quality and customer service that Caparo is known for worldwide while at the same time providing a platform for successful growth."
THE COMPANY
voestalpine Polynorm, Inc. (www.voestalpine.com) is a manufacturer of stampings, welded assemblies, and e-coated components for the automotive industry. The company is a high quality supplier of stamped metal chassis and body-in-white components such as floor reinforcements, convertible roof mechanism components, pedal assemblies and brackets to a broad cross-section of automotives OEMs, Tier I and Tier II suppliers.
THE BUYER
Caparo plc (www.caparo.com) is a private, diversified, UK-based Group, specializing in the manufacture and supply of steel and engineering products for industry. Headquartered in London, Caparo's operations are located at over 50 sites in the UK, North America, India and Spain. The group was founded in 1968 by Indian born British Industrialist Lord Paul of Marylebone, who remains Chairman. Caparo is one of the largest family-owned businesses in the UK with approximately $1.4 billion in annual revenue.
The group's North American headquarters are in St. Louis, MO and Caparo's largest holding is St. Loui- based Bull Moose Tube Company. Caparo's legal advisor for the acquisition was Spencer Fane Britt & Browne.
ABOUT CLAYTON CAPITAL PARTNERS
Clayton Capital Partners (CCP) is one of the nation's top independent investment banking firms providing M&A advisory services to a diversified client base of middle-market companies. Clients have come to rely on our expertise, our commitment to client services and our innovative ability to create value.
The principals at Clayton Capital Partners focus on satisfying the complex needs and objectives of our clients through our core business practice of M&A. Together, our professionals have acted as financial advisors in more than 200 advisory transactions.
If you would like more information about this transaction or Clayton Capital Partners, please contact Brent Baxter at (314)725-9939 x 526 or bbaxter@claytoncapitalpartners.com.