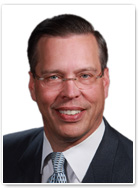 Brent A. Baxter



Brent Baxter is the leader of Clayton Capital Partners' buy-side practice and a senior dealmaker in the firm's sell-side practice.

Brent brings over 25 years of buy-side advisory experience to each engagement. He has worked with a diverse group of buyers (from Fortune 10 corporations to privately owned family businesses and leading private equity firms) to execute growth and diversification strategies through careful, creative and strategic acquisitions.

Brent and his team are proud of their track record of value creation for their clients. In addition to a keen appreciation for the mindset of sellers, Brent deeply understands the challenges and opportunities of the acquirer. Earlier in his career, Brent was the CEO of a company that more than quadrupled its sales—through strategic acquisitions—in only eight years.

"Strategy, search, surprise and close," says Baxter, "are our four touchstones in each custom project we undertake." Once Brent and his team thoroughly understand a buyer's strategic goals, they launch a rigorous search to identify all potential candidates. "Inevitably we surprise buyers with the number and quality of acquisition candidates we identify that they never considered or knew existed."

Brent and his team provide buyers with comprehensive, content-rich strategies, followed by surprising numbers of qualified targets and then help buyers choose the acquisition targets that best suit their growth strategy, budget and risk tolerance. "Then the fun of moving buyer and seller to the closing table begins," he says. "Getting the parties to agree on price and terms is only half the distance to the goal line. Managing emotions, values and personalities is the key to creating an environment in which all parties negotiate to achieve positive outcomes."

Under his leadership, Clayton Capital Partners has created a high-tech, high-touch process that initiates numerous, high-quality conversations, nurtures relationships and closes proprietary transactions. Brent and his team have closed over 200 transactions with an aggregate value of over $1 billion.

Brent serves on the global Board of Directors of the Association for Corporate Growth-Global, an organization of approximately 14,000 merger and acquisition professionals across the globe. He serves on the board of directors of several privately held companies. He also devotes his time to nonprofit organizations dedicated to improving the quality of early childhood education.
Email:
bbaxter@claytoncapitalpartners.com

Phone:
314.725.9939